It is important to go ahead and choose a veterinarian now.
Talk to family, friends, coworkers, and people that you trust who have dogs. Ask what veterinarian they use and what they like or dislike about the vet clinic. You may want to do a price comparison on procedures performed at different vet clinics. Ask about the cost of a wellness exam, puppy shots, spaying or neutering and if they accept pet insurance and if so what companies.
Many corporate vet offices will try to upsell you on a comprehensive plan. I am not saying that these plans are bad but investigate what you need verses what they are trying to sell you and shop around.
You will need to schedule a wellness exam for your puppy within 72 hours of picking up your puppy (this is a requirement in the contract). Your puppy will be ready for their second DAPPV vaccination at this time as well. If your puppy will be a pet, your contract will require that your puppy be spayed or neutered by 9 months of age.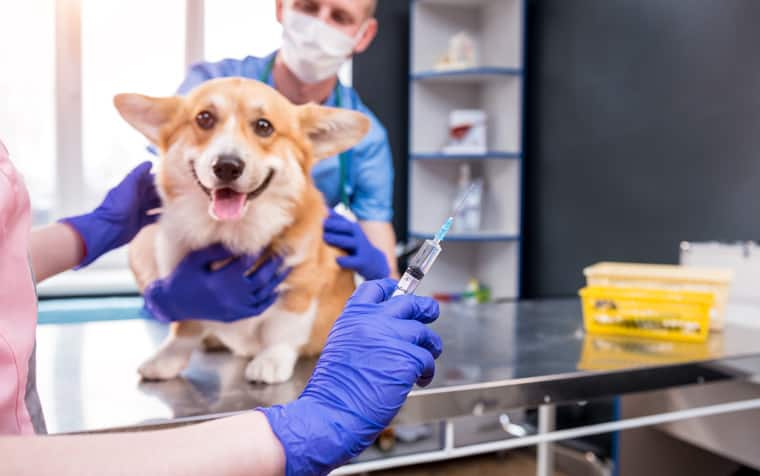 Expected Veterinarian Expenses
For the first year you will be looking at…
A wellness check within 3 days of getting your puppy


Vaccination visits – Your puppy will need a minimum of 3 to 4 DAPPV vaccinations plus rabies. Additional vaccinations may be recommended by your vet or required if you plan on boarding your dog. Vets will often want to do a fecal check during these visits as well. Ask for the price of the visit and vaccinations


Worming medications – Your vet will normally place your puppy on a worming protocol. Ask what wormer they normally recommend and its cost.


Flea & Tick medication – Your vet will normally place your puppy on a preventative flea & tick medication. Ask for the monthly cost of the medication.


Spay/neuter – If you are purchasing a puppy with limited registration for a pet, my contract will require that you provide proof that your puppy was spayed or neutered normally by 9 to 12 months of age. Ask what this will cost and when your vet recommends for this to occur.
After the first year you will be looking at…
Annual vaccinations
Routing annual vet visit
Teeth cleaning
Worming medications
Flea & Tick medication
Some people choose to put money back for pet medical emergencies while others choose to purchase a pet insurance plan.  I have partnered with several companies to offer you 30 days of free pet insurance just in case your little one has a medical emergency.  Since these offers are free to you and you are under no obligation to purchase a policy I encourage you to activate them both. 
To learn more about these offers and compare pet insurance companies, click on the link below.