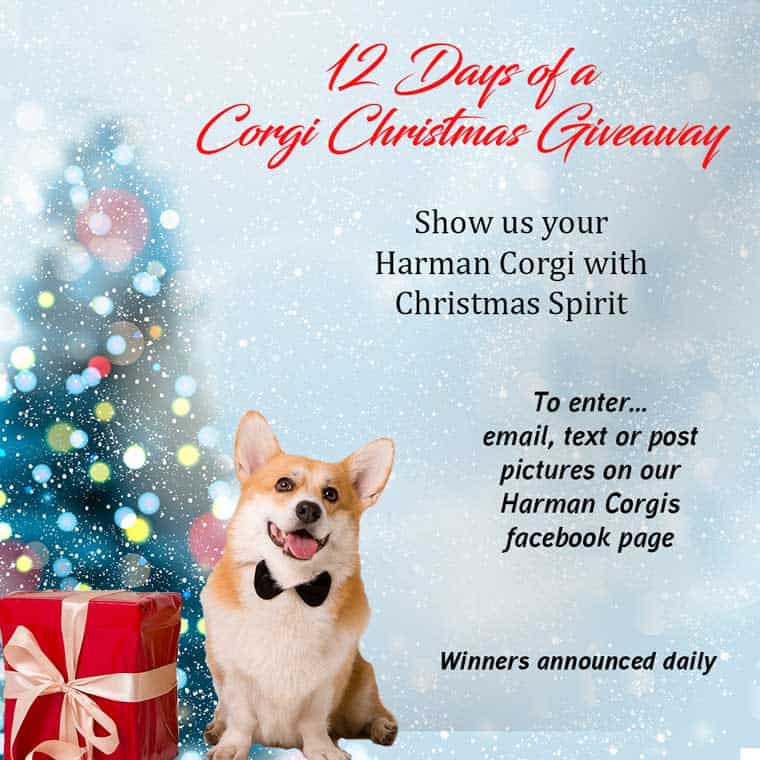 Have a Harman Corgi?
Join us in our 12 Days of a Corgi Christmas Contest.
Just email, text or post a picture or pictures of your Harman Corgi in the Christmas spirit. Please include your pups name too.
A winner will be drawn daily as we celebrate the 12 days of Christmas with our own dogs.
Once you enter, your pictures will remain in the contest. 
Good Luck & show us those Harman Corgis!
Enter as many times as you like.
Day 1…Ringo
Day 2…Luna
Day 3…Captain Red Reindeer
Day 4…Basil
Day 5…Spyro
Day 6…Tucker
Day 7…Timber
Day 8…Cheddar
Day 9…Zelda
Day 10…Gunner
Day 11…Darci
12 Days of a Corgi Christmas……. Entries
Chubbs
ready for Christmas
Darci
in her Christmas pj's
Aston
camping out & waiting for Santa Paws
Biscuit
I didn't move the Elf!!!!
Spyro
decked out for Christmas with his clan
Callie
Worlds best wrapper!
Bailey
ready for Christmas
Bevo
dressed up for Christmas
Hazel
says Merry Christmas
Ringo
wishing you a Merry Christmas
Sage
the best present under the tree
Ahsoka
says Merry Christmas from NY
Pepper
excited for her 1st Christmas
Luna
not a fan of Reindeer attire
Willow
hanging out with the Christmas tree
Dixie
Like a kid on Christmas morning
Willow
countdown to Christmas
Darci
Christmas sweater time
Basil
viewing Christmas lights
Basil
sacked out under the tree
Avo
What a cute little smile
Benjamin
the Worried and Grumpy Christmas Tree
Benjamin
the Worried and Grumpy Christmas Tree
Huntley & Brinks
Why have one Harman Corgi when you can have two? Because getting our two cuties to sit by the tree for one second was similar to herding feral cats. Merry Christmas from Huntley and Brinks!
Jude
Waiting to unwrap presents
Darci
We've been working on sit for 8 months for this exact, 3 seconds 😂 merry corgmas Harman corgis & family!
Timber
She thinks they are all for her
Bailey
with her new Christmas attire
Biscuit
all dressed up and ready for Christmas
Jude
the best view of the tree
Reville
Ready for Christmas
Frankie
all dressed up for Christmas