Puppy Developmental Stages and Puppy Culture
Why
We have spent the past several years developing our head start puppy program.  Our program is a mixture acclaimed science based puppy rearing methods that we adopted from numerous books, scientific literature, and courses including Puppy Culture, Avid Dog's Breeder College and Puppy College, Badass Breeder and SIRUS Dog Training.  The first course that we came across was Jane Killion's Puppy Culture.  This course had a major impact upon our puppy program! We slightly modified this great program to meet the needs and maturity of our breed.  Avid Dog's University added depth and scientific documentation for our moms, newborns and socialization program.  These programs along with SIRUS Dog Training and other well recognized training programs allow us to pass on a wealth of knowledge to our buyers to give them the tools needed to make their puppy into a great dog.  
What is Socialization and why should I care?    
What is Puppy Culture?
Puppy Culture is a program for breeders to follow during the first weeks of a puppy's life. Breeders have the ability to change the outcome of the puppy's life during this time by doing the right things at the right time. The Puppy Culture program identifies the developmental stages of puppies and identifies practices to follow during these times. Yes, it DOES require a great deal of time and a commitment on our part but the rewards are unbelievable. By using this program we give your puppy the best start possible. Please note that the practices outlined below are general.  We look at developmental markers in the puppies to tell us when to proceed to the next set of enrichment activities, not age. 
Harman Corgis' Next Level Puppy Program
Here is a little bit of insight into our Head Start Puppy Program.  
We move our expecting mother to a whelping room where she is by herself in a calm stress-free environment.  She gets lots of attention and belly rubs during this time.  We make this time as stress-free for mom and babies as possible. 
Studies show that the physical and emotional health of the mother will affect the health of her puppies. Puppies are able to respond to the touch of mom's belly being rubbed late in pregnancy. Studies show that loving on a pregnant mom results in puppies that are more docile and enjoy being touched as adults.
Puppies are born with their eyes and ears closed.  They are helpless and can not regulate their own body temperature or eliminate on their own.  They only respond to warmth, touch and smell.  We ensure that they are warm and eating. 
Every day we weigh each puppy to make sure that they are growing and getting enough food from mom.  If they are not gaining weight we will supplement them with a bottle. We love on our babies cuddling and petting on each one daily. 
Starting on day 3 and continuing through day 16, each puppy receives Early Neurological Training (ENS).  These exercises are part of the Bio Sensor or Super Dog  Program developed by the U.S. Military's canine program.  Puppies undergo a period of rapid neurological growth and development during this time and studies show that puppies that undergo ENS have an improved heart rate, stronger heartbeats, stronger adrenal glands, are more tolerant to stress and have a greater resistance to disease.   In learning tests, puppies that received ENS were more active and exploratory, made fewer errors and thus dominated in competitive situations.  These puppies were also calmer when placed in stressful situations.
We continue performing ENS exercises, cuddling, petting and weighing each puppy daily.  Puppies are introduced to tactile objects.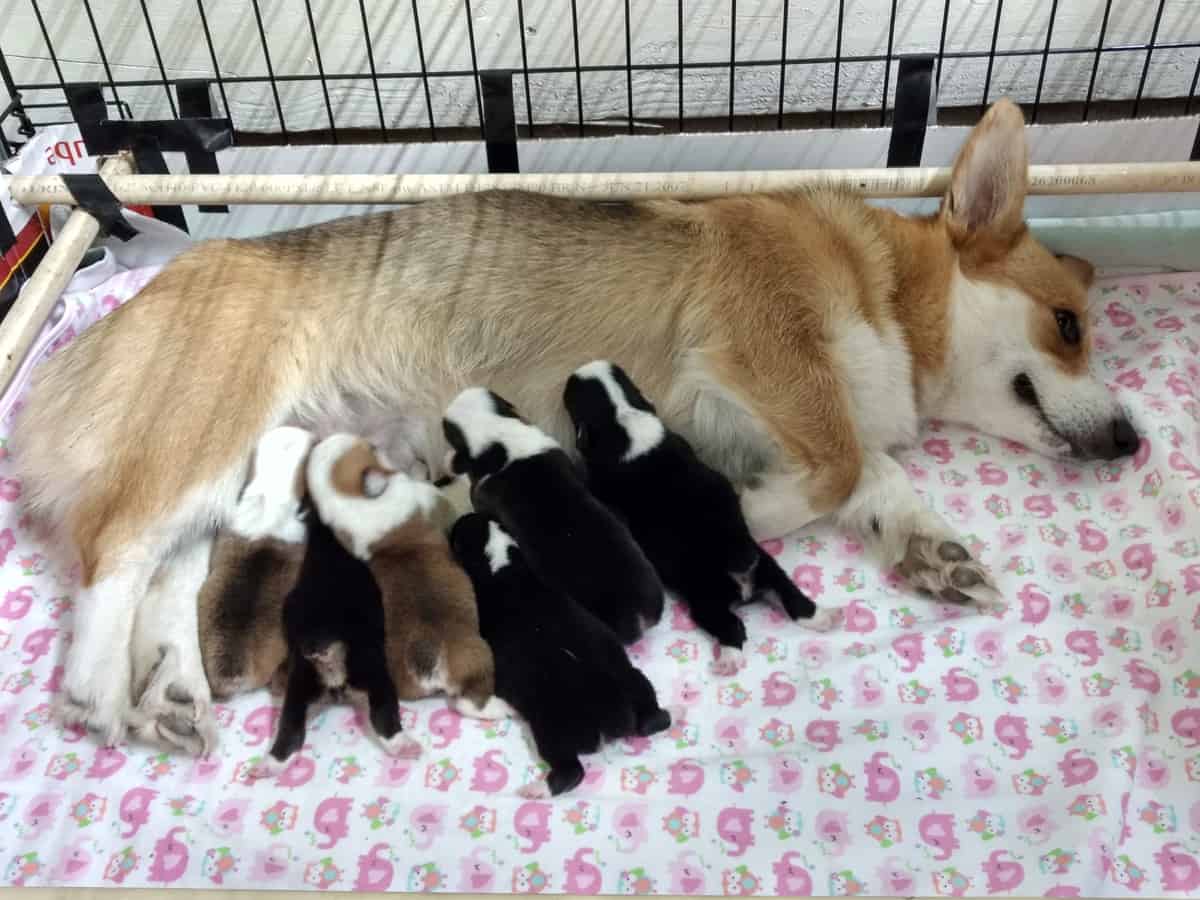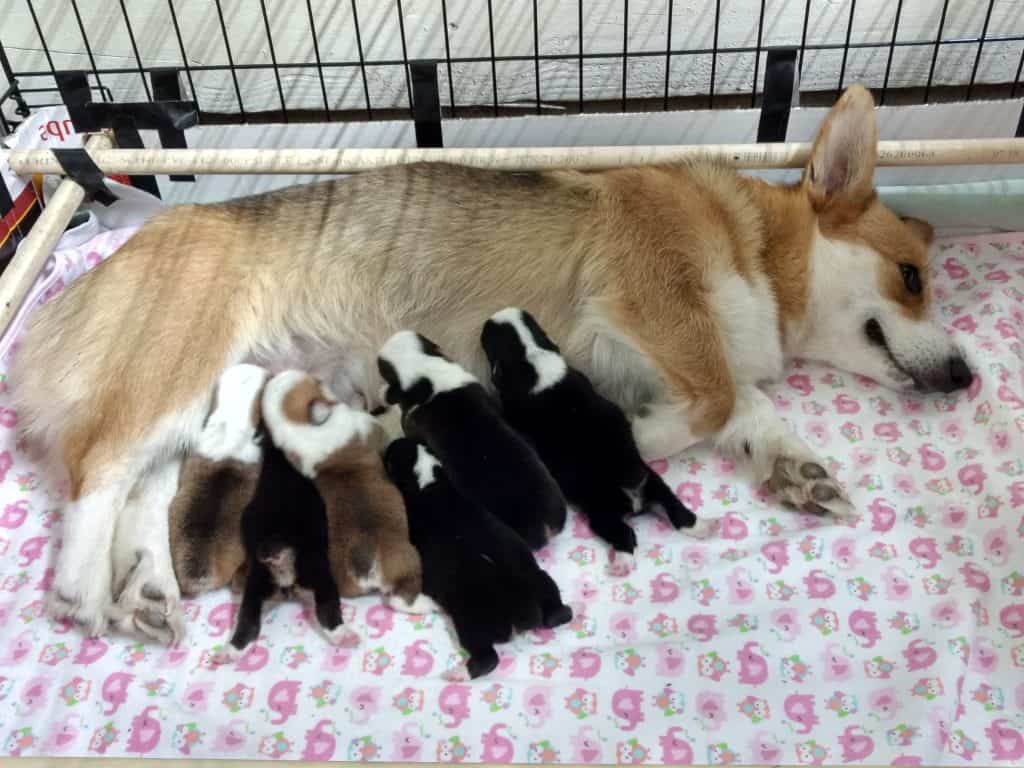 Eyes and ears open this week but sight and hearing are still limited.  They begin to toddle around and play. Communicating with each other through little barks and growls normally begins at this time. 
This is a big week for the puppies.  They are transitioning from helpless babies to learning about the world around them.  During this week, we start exposing puppies to something new every day, whether it be a new toy, surface, sound or experience. They learn about eating puppy mousse and we begin teaching them to come when called. Grooming training starts this week with nail trimming.  
At the end of the week, we begin teaching recovery from fear or bounce back.  This entails exposing puppies to new noises such as a vacuum cleaner, slamming doors, dropped pans and new toy sounds. Normally they recover from the startling sound very fast and go on playing. We introduce a new sound every day.
Every day we take out each puppy and work with them individually for short periods of time on touch-sensitive areas like their ears, paws, and mouth. We add a bed and potty area to the whelping crate and potty training begins.  They learn where to sleep and where to potty. 
We continue to cuddle, pet and love on each puppy and continue to enrich their environment by adding a new experience, texture or toy each day. 
It is a full-time job cleaning up after them but the cleaner the pen the easier it is to potty train them.
This is another big week for the puppies as we move from the whelping box to a weaning pen where we continue to work on potty training to a litter box area. We continue to work on recall, introduce them to new sounds and experiences daily.
Puppies master the puppy call when fed. They are eating mushy food well by this point and we begin asking them to problem-solve. They learn to figure out things on their own and learn to deal with frustration. We also start positive reinforcement clicker training this week. Puppies start learning to communicate with us in an acceptable way by sitting or manding when they want something instead of jumping.
We continue to work with puppies on an individual basis, continue handling and touching ears, paws and their mouths and work more on brushing and nail trimming. Puppies receive their first vaccination against parvo and are dewormed this week. We continue to introduce new sounds and types of music as well as new surfaces and toys with different textures.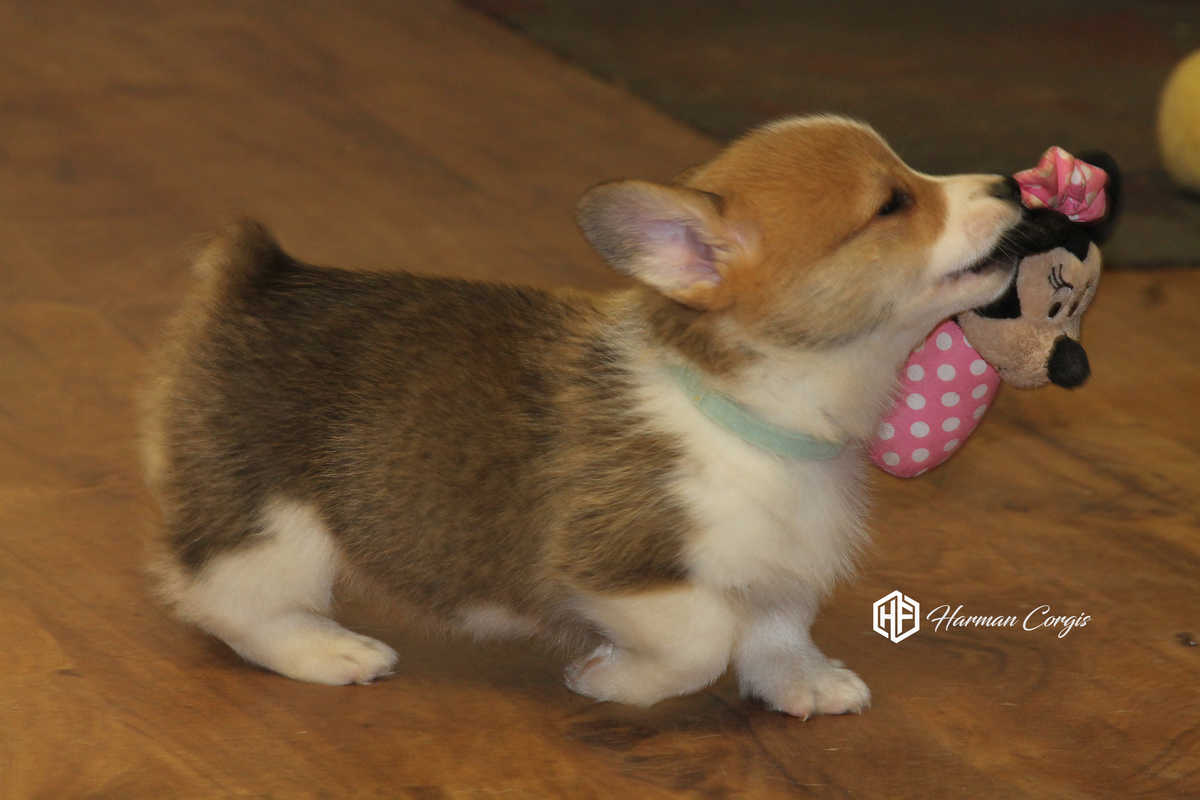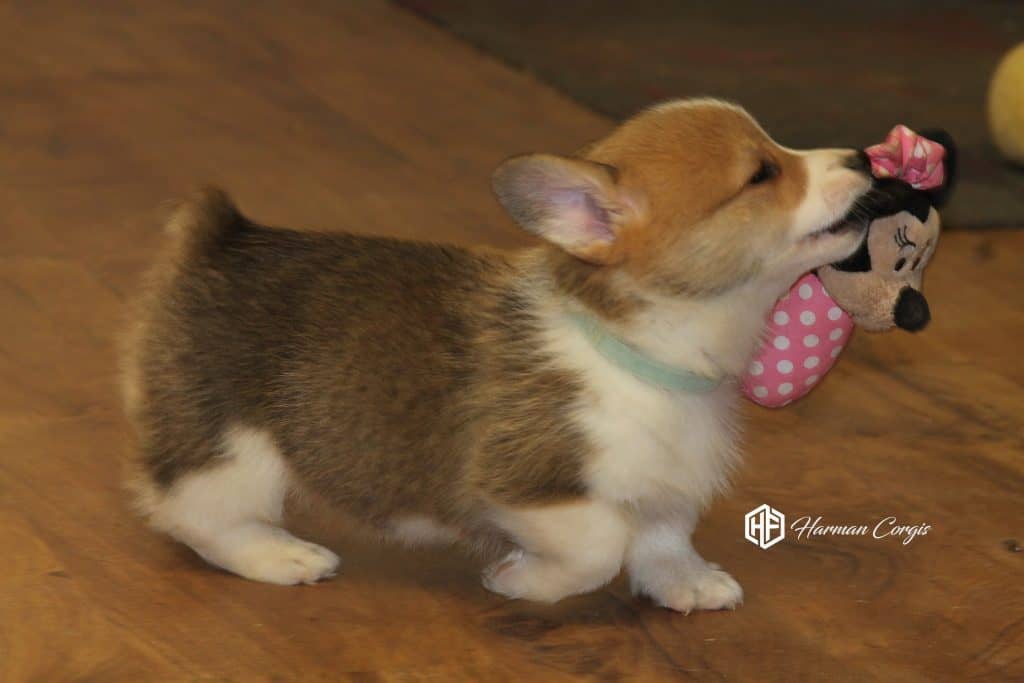 Puppies often undergo a fear period around 5 weeks old where they become afraid of things that they were not afraid of before. We watch them closely and make sure they feel safe when going through this period.  They are cautiously exposed to new things during this time on a one by one basis. 
Open door crates with a comfy bed are introduced so that babies learn that they are a safe comfy place to sleep.
Puppies are exposed to new surfaces such as gravel, grass, dirt, concrete and water as well as new items to interact within their pen. We continue to work on manners and clicker training.  They have many new experiences this week like a blowing fan, bubbles and a tunnel.
We note specific temperaments while working with each puppy.  We continue cuddle time, individual time, brushing, recall and potty training as well as exposing them to new surfaces and sounds.  
This is about the time that puppies become highly curious about everything around them.  We take advantage of this by introducing them to new experiences, new surfaces, and new items around them such as tunnels and ramps.
This week normally includes a vet check. They receive vaccinations (5-way DAPPv and Bordatella), are dewormed, microchipped and are thoroughly checked by our veterinarian.
 We continue to make notes on the temperament of each puppy and perform specific personality tests. This information is used to help buyers select the right puppy for their family.
Puppies continue working on politely asking for things, problem-solving, and recall. They continue to experience a new sound and experience daily.  This is the week that we begin working on curbing resource guarding and continue body desensitizing.
We continue to expose the puppies to new enriching activities such as scent games and food puzzles.  Puppies learn about wearing a harness and are exposed to more new sounds and textures and water this week. 
We continue working on preventing behavior issues such as resource guarding this week.  We also work on managing nipping and heeling and advanced manding.  
We start matching puppies with their new owners when we feel that we have an idea of each puppy's personality. People on our waiting list will select their puppy first.  Sometimes this process can take some time since we prefer to set up a zoom meeting with every new buyer.  During the zoom meeting, buyers are able to see the pups in action, learn about their personalities and ask any questions that they may have.  We try to make sure that buyers choose a puppy that will fit their family and lifestyles. 
New owners need to work on purchasing all necessary supplies, finding a veterinarian, and puppy-proofing the house.  Our Suggested Products for Corgis page is a great resource for new owners. 
We will make sure that new owners receive contracts and invoices. Please read it thoroughly, let us know if you have questions, sign and send it back. We also need to finalize pick or delivery plans at this time.
Puppies often undergo a second fear period around 8 weeks old where once again they become afraid of things that they were not afraid of before. We continue to work but watch them closely and make sure they feel safe when going through this period. This is why we do not let our puppies leave this week.
We continue working with each puppy and get them ready to go to their new homes. Most puppies are well on their way to becoming house trained and will use a litter box, pee pads or grass. They have learned the basics of clicker training, coming when called with the "Puppy call", and love spending time in a crate. They have been desensitized to numerous sounds, touch, and textures. They know how to ask for things politely and will sit or "mand" when they want something instead of jumping and come when called.
We work on leash training this week and work on eye contact and attention. We will finalize all arrangements and paperwork this week. New buyers need to make final payments and we email receipts to new buyers.
Nails are trimmed again in preparation for leaving.
Puppies get a bath and final hugs from us and leave to go to their new homes.
As a new buyer, we hope that we have prepared you well for your next best friends' arrival. Remember that we are always here to help you with your puppy and always there to answer questions.
We have grown very attached to your puppy so we like to stay in contact to make sure that things are going well. We love updates and pictures.
We would love to hear from you. We can help you find your next best friend.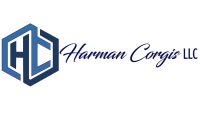 Phone:  Leslie 806-202-2076
               Wayne 806-202-2175
Email: Leslie@harmancorgis.com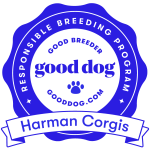 What Our Customers Have to Say
We purchased a puppy from The Harman's and are absolutely in love! Our dog Moose is super sweet and loving. He has the very best temperament and loves kids! He also loves to be around other animals. We couldn't be happier with our new dog!
Kelly J.
Spearman, Texas
On advice of a close friend we inquired about a female pup. We have a male and wanted a female to hopefully breed a few litters. We were sent text pictures of all the pups and immediately picked our "Lucy". It was love at first sight! Lucy has been all we could of wanted. Her name fits her personality and we are anxious to see her in a mother capacity. Dealing with the Harmans has been a blessing. Both business wise and personally . All paperwork was delivered with the pup and Leslie truly loves getting text pictures of her pups as they develop.
Larry B.
Marion, Texas
" I had a great experience buying a puppy from the Harman's. The puppy we received was in great health, and is continuing to develop into a great companion/ barn dog. The Harman's provided me with plenty of information and advice on raising my new puppy. Great Corgis, Great people!"
Joshua T.
Robstown, Texas
I purchased my male corgi, Mudflap, from the Harmans. They were so kind and answered my many questions. They even met us half way to pick him up. "Muddy" is a great dog and he is built just how I feel a corgi should be— He is short and wide and has a great temperament. I'm very happy with my pup! He is now 9 months old. -
Kendra from KBI Farms
Ozark, Arkansas
We purchased a Harman Corgi puppy in June of 2018. At the time we also had an 11 year old female Corgi. We knew we loved this breed of dogs and we so excited to get a new one. We were over the moon about our sweet Lola Marie when she came to us, from Perryton. We have two daughters, ages 12 and 7. Needless to say Lola has plenty of attention and love from our family. I quickly learned she was going to be easy to housebreak, potty train, and crate train. We live on a small farm so she has plenty of space to run, play, and explore. She plays outside with our other dogs during the day and comes in the house to sleep at night. She is amazing with our children! She fits right in with our other dogs, as well. She loves to help with the livestock and you can tell she has "pig raising" in her blood. She is quick to assist with penning, walking, and herding. Most of all our Lola is a companion. She loves to be a lap dog, give kisses, go to town to run errands, and cuddle up with our girls. Lola is full of personality! She is a wonderful pet and so so smart! Another Harmon Corgi is probably in our family's future!
Kaki C.
Lubbock, Texas