"Do you have any puppies available?"
One of the most frequent questions that we get is "Do you have any puppies available?"  When we have litters they are placed with people on our waiting list so currently the only way to get a puppy from us is to be on our waiting list.  
"How long is the wait for a puppy?"
Another question that we get is "How long is the wait?" That is a hard question to answer due to the fact that we can not control heat cycles, pregnancies, the number of puppies born or if people currently on the list will stay on the list or choose to remove themselves from the list due to personal situations. As you might guess, COVID has impacted many lives and people who were once in a position to get a puppy may no longer be able to adopt at this point in their lives. You may or may not realize that dogs normally only have 2 heat cycles per year so we only have 2 chances a year to get them bred. Our puppy program requires that we spend more time with each puppy therefore we can only handle a couple of litters at a time.
With all of these factors in mind we predict that you will wait approximately 6 – 12 month to get a puppy. If you are looking for specific colors, genetics or pedigrees the wait could be longer.
"Why do you have a waiting list and charge deposit to be placed on the list?"
Maintaining a waiting list is a time consuming task.  People will often get on multiple breeders wait list at one time then get off once they are offered a puppy.  Most of the time these people never even bother to contact the breeder to inform them that they have already purchased a puppy. This makes planning matings extremely difficult.  A small deposit seems to solve some of these problems. 
Each breeders waiting list works differently.  Click the link below to learn about how our waiting list works.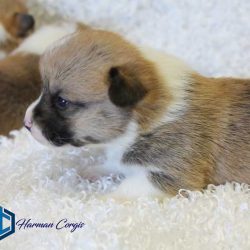 Not all Corgis are created equal...
What makes a Harman Corgi Special?
All of our dogs have been tested for inherited diseases in Pembroke Welsh Corgis through Embark's Breeder Testing.  This tests for over 200 genetic diseases including breed relevant diseases such as Degenerative Myelopathy (DM), Von Willebrand Disease Type 1 (VWD1), Exercise-Induced Collapse (EIC), X-linked Severe Combined Immunodeficiency (X-SCID) and Progressive Retinal Atrophy (RCD3).   Because we utilize this information when planning matings, we know that our puppies will never be at rigk of developing these diseases.  
The experiences that a puppy has during its first 16-18 weeks of life greatly impact how they will function in a human world for the rest of their lives.
Few breeders will spend the extra time required but we have seen the benefits first hand and believe that every puppy deserves training during this critical period in their lives to become the best dog that they can become.
 What is Puppy Culture?
Puppy Culture was developed by breeder and dog trainer Jane Killion and focuses on giving puppies experiences during the first 16-18 weeks of life to create smarter more stable dogs that can easily fit into human families. We know that as breeders, we have the ability to change the outcome of the puppy's life during this time by doing the little things at the right time during key developmental stages in the first weeks of a puppy's life. 
 We start on day 3 of life and every puppy is handled and undergoes developmental appropriate training daily until they leave our care and go to their new homes.   During the first 9 weeks of life that they are with us we work on

ENS (early neurological stimulation) which has been shown to create more resilient dogs who are healthier and handle stressful situations better in life.
socialization
manner training
basic crate training of sleeping in a crate with the doors open
litter box training which will help with potty training later in life
leash training
desensitizing to sounds, textures and touch  
recall
clicker training

What about the critical weeks of 9-18 once the puppy goes to its new home?  We highly recommend that you continue the training that we have started during this critical time.  Don't worry we can point you in the right direction to give you the resources needed to continue this training.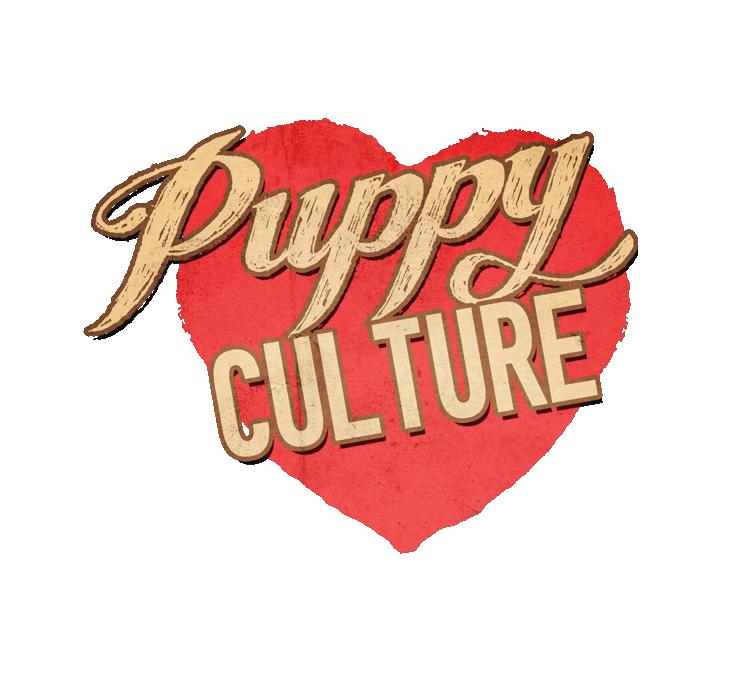 Our Puppies are healthy! Each puppy is vet checked at 6 to 7 weeks old for general health. Bite, eyes, and joints are also checked at this time.
Our puppies come up to date on vaccinations and deworming.
Our puppies carry a 1-year genetic health guarantee against genetic disorders
All of our puppies come implanted with an AKC Reunite Microchip. Before your puppy leaves, we will help you enroll your puppy with AKC Reunite so you will be contacted immediately if your puppy is found after getting lost.
Our Puppies are very competitively priced. 
Most of our puppies are sold as pets with limited registration however full registration is available on most litters.
As a buyer, you not only get a great puppy but you receive lifetime support.  We are there to help you if you have questions or problems with your dog even after it's grown.  We offer group video conferencing to help with questions and concerns.
Harman Corgi owners get access to our restricted Buyers Resources area on our website where you will find videos and information to help you get ready to bring your puppy home, train your puppy, and address problems along the way.  Our Harman Corgi Owners Facebook group allows you to connect with other owners and swap ideas.  These resources will help you each step along the way to creating a great dog.  
The process of getting a new puppy can be very stressful.  We make the process simple and easy.

We are glad to provide references to confirm that we are legitimate breeders and will 

work with you to find the right puppy for your family and lifestyle.  Feel free to call us, AKC, or our veterinarian at Hansford County Veterinary Hospital in Spearman Texas, and check us out.
When selecting your puppy we prefer to set up a face time or video chat through Facebook messenger so that you can actually see the puppies in real-time.   
We leave a trail of paper – we will email you an updated receipt every time payments of any kind occur.
Learn more about the signs of Puppy Scammers and how to avoid them by clicking on the link below.
Learn more about adopting a Harman Corgi and getting on the waiting list.  
We would love to hear from you. We can help you find your next best friend.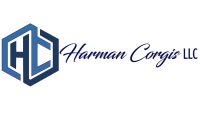 Phone:  Leslie 806-202-2176
               Wayne 806-202-2175
Email: Leslie@harmancorgis.com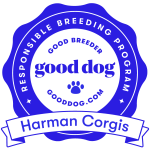 What Our Customers Have to Say
We purchased a puppy from The Harman's and are absolutely in love! Our dog Moose is super sweet and loving. He has the very best temperament and loves kids! He also loves to be around other animals. We couldn't be happier with our new dog!
Kelly J.
Spearman, Texas
On advice of a close friend we inquired about a female pup. We have a male and wanted a female to hopefully breed a few litters. We were sent text pictures of all the pups and immediately picked our "Lucy". It was love at first sight! Lucy has been all we could of wanted. Her name fits her personality and we are anxious to see her in a mother capacity. Dealing with the Harmans has been a blessing. Both business wise and personally . All paperwork was delivered with the pup and Leslie truly loves getting text pictures of her pups as they develop.
Larry B.
Marion, Texas
" I had a great experience buying a puppy from the Harman's. The puppy we received was in great health, and is continuing to develop into a great companion/ barn dog. The Harman's provided me with plenty of information and advice on raising my new puppy. Great Corgis, Great people!"
Joshua T.
Robstown, Texas
I purchased my male corgi, Mudflap, from the Harmans. They were so kind and answered my many questions. They even met us half way to pick him up. "Muddy" is a great dog and he is built just how I feel a corgi should be— He is short and wide and has a great temperament. I'm very happy with my pup! He is now 9 months old. -
Kendra from KBI Farms
Ozark, Arkansas
We purchased a Harman Corgi puppy in June of 2018. At the time we also had an 11 year old female Corgi. We knew we loved this breed of dogs and we so excited to get a new one. We were over the moon about our sweet Lola Marie when she came to us, from Perryton. We have two daughters, ages 12 and 7. Needless to say Lola has plenty of attention and love from our family. I quickly learned she was going to be easy to housebreak, potty train, and crate train. We live on a small farm so she has plenty of space to run, play, and explore. She plays outside with our other dogs during the day and comes in the house to sleep at night. She is amazing with our children! She fits right in with our other dogs, as well. She loves to help with the livestock and you can tell she has "pig raising" in her blood. She is quick to assist with penning, walking, and herding. Most of all our Lola is a companion. She loves to be a lap dog, give kisses, go to town to run errands, and cuddle up with our girls. Lola is full of personality! She is a wonderful pet and so so smart! Another Harmon Corgi is probably in our family's future!
Kaki C.
Lubbock, Texas