Some of our Corgi Puppies from previous litters
Past Pups In Their New Homes
12 Days of a Corgi Christmas……. Entries
Chubbs
ready for Christmas
Darci
in her Christmas pj's
Aston
camping out & waiting for Santa Paws
Biscuit
I didn't move the Elf!!!!
Spyro
decked out for Christmas with his clan
Callie
Worlds best wrapper!
Bailey
ready for Christmas
Bevo
dressed up for Christmas
Hazel
says Merry Christmas
Ringo
wishing you a Merry Christmas
Sage
the best present under the tree
Ahsoka
says Merry Christmas from NY
Pepper
excited for her 1st Christmas
Luna
not a fan of Reindeer attire
Willow
hanging out with the Christmas tree
Dixie
Like a kid on Christmas morning
Willow
countdown to Christmas
Darci
Christmas sweater time
Basil
viewing Christmas lights
Basil
sacked out under the tree
Avo
What a cute little smile
Benjamin
the Worried and Grumpy Christmas Tree
Benjamin
the Worried and Grumpy Christmas Tree
Huntley & Brinks
Why have one Harman Corgi when you can have two? Because getting our two cuties to sit by the tree for one second was similar to herding feral cats. Merry Christmas from Huntley and Brinks!
Jude
Waiting to unwrap presents
Darci
We've been working on sit for 8 months for this exact, 3 seconds 😂 merry corgmas Harman corgis & family!
Timber
She thinks they are all for her
Bailey
with her new Christmas attire
Biscuit
all dressed up and ready for Christmas
Jude
the best view of the tree
Reville
Ready for Christmas
Frankie
all dressed up for Christmas
We would love to hear from you. We can help you find your next best friend.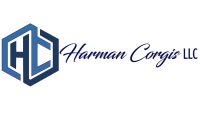 Phone:  Leslie 806-202-2076
               Wayne 806-202-2175
Email: Leslie@harmancorgis.com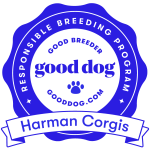 What Our Customers Have to Say
We purchased a puppy from The Harman's and are absolutely in love! Our dog Moose is super sweet and loving. He has the very best temperament and loves kids! He also loves to be around other animals. We couldn't be happier with our new dog!
Kelly J.
Spearman, Texas
On advice of a close friend we inquired about a female pup. We have a male and wanted a female to hopefully breed a few litters. We were sent text pictures of all the pups and immediately picked our "Lucy". It was love at first sight! Lucy has been all we could of wanted. Her name fits her personality and we are anxious to see her in a mother capacity. Dealing with the Harmans has been a blessing. Both business wise and personally . All paperwork was delivered with the pup and Leslie truly loves getting text pictures of her pups as they develop.
Larry B.
Marion, Texas
" I had a great experience buying a puppy from the Harman's. The puppy we received was in great health, and is continuing to develop into a great companion/ barn dog. The Harman's provided me with plenty of information and advice on raising my new puppy. Great Corgis, Great people!"
Joshua T.
Robstown, Texas
I purchased my male corgi, Mudflap, from the Harmans. They were so kind and answered my many questions. They even met us half way to pick him up. "Muddy" is a great dog and he is built just how I feel a corgi should be— He is short and wide and has a great temperament. I'm very happy with my pup! He is now 9 months old. -
Kendra from KBI Farms
Ozark, Arkansas
We purchased a Harman Corgi puppy in June of 2018. At the time we also had an 11 year old female Corgi. We knew we loved this breed of dogs and we so excited to get a new one. We were over the moon about our sweet Lola Marie when she came to us, from Perryton. We have two daughters, ages 12 and 7. Needless to say Lola has plenty of attention and love from our family. I quickly learned she was going to be easy to housebreak, potty train, and crate train. We live on a small farm so she has plenty of space to run, play, and explore. She plays outside with our other dogs during the day and comes in the house to sleep at night. She is amazing with our children! She fits right in with our other dogs, as well. She loves to help with the livestock and you can tell she has "pig raising" in her blood. She is quick to assist with penning, walking, and herding. Most of all our Lola is a companion. She loves to be a lap dog, give kisses, go to town to run errands, and cuddle up with our girls. Lola is full of personality! She is a wonderful pet and so so smart! Another Harmon Corgi is probably in our family's future!
Kaki C.
Lubbock, Texas