Vaccinations - What's needed & what to expect
Your puppy will require a series of vaccinations before they are fully protected against deadly diseases like Parvo and distemper. Since these deadly diseases are transmitted from dog to dog or in fecal material, you should NOT take your puppy anywhere that they could come in contact with an unvaccinated dog or fecal material from an unvaccinated dog like parks, dog parks, grassy areas around stores, etc… where an unvaccinated dog may have been. Do not allow your dog to be around other dogs unless they have been fully vaccinated too.

Your puppy has received its first DAPPV vaccination. This vaccination protects against 2 deadly puppy diseases, Parvo and Distemper. Your puppy MUST receive at least 3 more of these vaccinations to be protected against these deadly diseases. Puppies normally receive one of these shots every 3 weeks from your veterinarian. Your puppy has also received a Bordetella vaccination to prevent Kennel cough. Kennel cough may be caused by many different organisms with Bordetella being the most common. Most boarding kennels and doggy daycares require that your dog be vaccinated against Bordetella.

So, what do you need to do as a new owner?
1. Wellness Exam & Next Vaccinations
Set up a visit with your veterinarian within 3 days of receiving your puppy (this is a stipulation in your contract).  I guarantee that your puppy is received healthy that is why this visit must be performed quickly after receiving your puppy.

Even though my vet performed a vet check at 6 weeks of age, I want your vet to perform a check to just double check that no problems are found with your puppy.

Your puppy received its DAPPV vaccination about 3 weeks ago and will be ready for that second vaccination at this point too.
Make sure to take your vaccination record with you to the vet visit.
You will find your puppy's vaccination records in the blue folder. Since I had the puppies vaccinated by my veterinarian during the health check, the records will be in a booklet that looks like the photo below. Take this with you to your vet visit!!!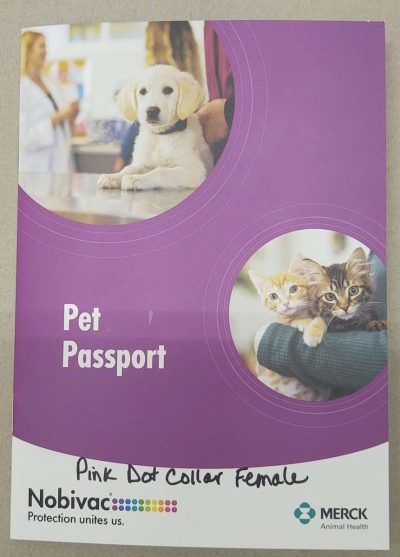 The vaccinations that were given by my vet are located on the first page shown below. The second page, titled Parasite Control, shows the vaccinations and parasite control that your puppy was given by me.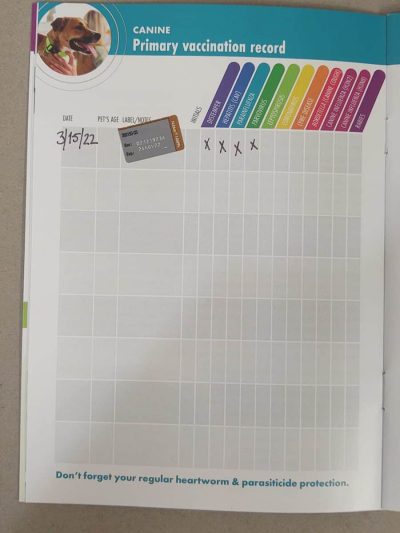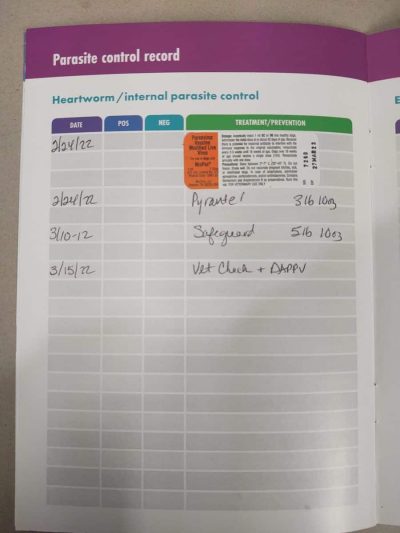 2. Vaccination & Worming Schedule -
Expect to return to the veterinarian every 3 weeks for your puppy to receive its' puppy vaccinations. Most vets will vaccinate on the following schedule however there may be some variation.

6 weeks – DAPPV
9 weeks – DAPPV
12 weeks – DAPPV or DAPPV with Lepto
15 weeks – DAPPV or DAPPV with Lepto + Rabies vaccination

***A word of caution! Dogs may have a reaction to a vaccination just like people. It is rare for a dog to have a severe reaction. More than likely, they will just have a sore neck and may not feel good and be grouchy. It is best to let them rest and limit play after a vet visit. The Lepto vaccination can really affect some dogs. Expect a very sore neck and achiness after a Lepto shot. Do not let children play or roughly play with puppies after they are vaccinated to prevent being bitten.

Your puppy has been dewormed approximately every 2 weeks with varying dewormers that are safe for puppies. Your veterinarian will set you up on a deworming schedule and flea/tick control if these external parasites are a problem in your area.

In case you are wondering what I use for parasite control, my dogs receive the wormer Interceptor plus (unless pregnant) and Bravecto for flea and tick control. I am not suggesting that you use these products but am supplying this information because someone normally asks what I use.
Once your puppy has received its series of puppy shots and rabies shot, they will need a yearly booster.  This is a good time for your veterinarian to check out your dog and do a general examination.
4. Spaying or Neutering -
Most of our puppies are sold with limited registration which requires mandatory spaying or neutering.  I have discussed the appropriate age for spaying and neutering Corgis with multiple vets and most agree that it should be performed before the dog is 9 months of age.  Once your puppy has been spayed or neutered, just send me some form of documentation from your vet and I will get you marked off the list.
What vaccinations will your puppy come with?
Your puppy has received vaccinations and has been dewormed on the following schedule.
4 weeks of age
• Puppy Parvo or Parvo and Distemper vaccination
• Dewormed with Pyrantel

6 weeks of age
• DAPPV vaccination (this is the first shot in a series of 4 that will be required to protect your puppy against deadly diseases such as Parvo & Distemper). This series of vaccinations are normally given at 6, 9, 12 and 15 weeks of age. Your puppy will be ready for their next shot within days after you pick them up.
• Dewormed with 3 days of Safeguard
8 weeks of age
• Dewormed with 3-5 days of Safeguard

Your puppy will come with a vaccination record showing all the vaccinations and deworming's that they received before leaving our care. Make sure that you take this with you to your first vet appointment.

It is your responsibility to complete your puppies' vaccinations. This will include at least 3 more DAPPV vaccinations and a rabies vaccination. They will be able to contract these deadly diseases if you do not complete their vaccinations on schedule.

You will want to work with your veterinarian to set up a prevention program for both internal and external parasites. My dogs receive a monthly chew for internal parasites and another chew quarterly to prevent fleas and ticks. Your veterinarian will know what medication is working best in your area.