We are proud to partner with Baxter & Bella's Online Puppy School to bring you a great training option. Before partnering with Baxter & Bella, we purchased a membership ourselves and tried out the program. We believe that this is a great option for puppy and obedience training if you are unable to attend live classes. This training continues along with what your puppy already knows from Puppy Culture training, is convenient, easy to follow, and reasonably priced.


The importance of training
All dogs need training but due to the energy level, herding nature and personality of Corgis training is critical to creating a dog that will successfully fit in with your family and be able to function in a human world.  Untrained dogs create stress for their owners and the relationship is filled with tension. 
We believe that all puppies need training!  A couple of good options are
in person puppy classes followed by obedience classes
a quality online training course such as the Baxter & Bella Online Puppy School
The experiences that a puppy has during their first 16-18 weeks of life greatly impact how they function in a human world for the rest of their lives. 
Training during the first 9 weeks of life
We will have your puppy for the first 9 weeks of its life.  During that time we use the Puppy Culture protocol so every puppy undergoes
ENS (early neurological stimulation) which has been shown to create more resilient dogs who are healthier and handle stressful situations better in life.

socialization

manner training

learns basic crate training of sleeping in a crate with the doors open

litter box training

leash training

desensitizing to sounds, textures and touch  

recall
Training from weeks 9 - 18 and beyond once it leaves our care
This period of training will be performed by you, the new owner.  It will be your responsibility to continue on with the training that we have started in order to create a dog that will become part of your family. Baxter & Bella's Online Puppy School is one option to help you. You will need to continue on with
socialization

manners

crate training

house training

leash training

desensitizing to sounds and touch so that your dog can easily be groomed and will be a good patient at the vet's office

obedience training
What we love about Baxter & Bella
Reasonably Priced – You will receive a 25% discount when you use our code HARMAN.  This means that you get lifetime access to the program for only $178.
This training continues on with the socialization & training that your puppy was started with  
Effective Techniques that work

You can train from anywhere when it is convenient for you

Lessons are well laid out in both written and video format

Lifetime access

You can ask a trainer directly for help for specific problems
We would love to hear from you. We can help you find your next best friend.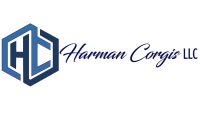 Phone:  Leslie 806-202-2076
               Wayne 806-202-2175
Email: Leslie@harmancorgis.com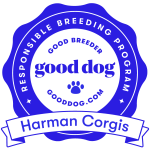 What Our Customers Have to Say
We purchased a puppy from The Harman's and are absolutely in love! Our dog Moose is super sweet and loving. He has the very best temperament and loves kids! He also loves to be around other animals. We couldn't be happier with our new dog!
Kelly J.
Spearman, Texas
On advice of a close friend we inquired about a female pup. We have a male and wanted a female to hopefully breed a few litters. We were sent text pictures of all the pups and immediately picked our "Lucy". It was love at first sight! Lucy has been all we could of wanted. Her name fits her personality and we are anxious to see her in a mother capacity. Dealing with the Harmans has been a blessing. Both business wise and personally . All paperwork was delivered with the pup and Leslie truly loves getting text pictures of her pups as they develop.
Larry B.
Marion, Texas
" I had a great experience buying a puppy from the Harman's. The puppy we received was in great health, and is continuing to develop into a great companion/ barn dog. The Harman's provided me with plenty of information and advice on raising my new puppy. Great Corgis, Great people!"
Joshua T.
Robstown, Texas
I purchased my male corgi, Mudflap, from the Harmans. They were so kind and answered my many questions. They even met us half way to pick him up. "Muddy" is a great dog and he is built just how I feel a corgi should be— He is short and wide and has a great temperament. I'm very happy with my pup! He is now 9 months old. -
Kendra from KBI Farms
Ozark, Arkansas
We purchased a Harman Corgi puppy in June of 2018. At the time we also had an 11 year old female Corgi. We knew we loved this breed of dogs and we so excited to get a new one. We were over the moon about our sweet Lola Marie when she came to us, from Perryton. We have two daughters, ages 12 and 7. Needless to say Lola has plenty of attention and love from our family. I quickly learned she was going to be easy to housebreak, potty train, and crate train. We live on a small farm so she has plenty of space to run, play, and explore. She plays outside with our other dogs during the day and comes in the house to sleep at night. She is amazing with our children! She fits right in with our other dogs, as well. She loves to help with the livestock and you can tell she has "pig raising" in her blood. She is quick to assist with penning, walking, and herding. Most of all our Lola is a companion. She loves to be a lap dog, give kisses, go to town to run errands, and cuddle up with our girls. Lola is full of personality! She is a wonderful pet and so so smart! Another Harmon Corgi is probably in our family's future!
Kaki C.
Lubbock, Texas