The world is filled with unscrupulous people that make buying a puppy scary. The internet is the perfect playground for puppy scam and the number of incidences are on the rise. Scammers often download pictures from breeders' websites and post them on sites that sell puppies like puppyfind.com. This is one reason that we attempt to put our logo on all photographs of our dogs. Scammers often take your money and you never get the puppy since they never had it.
We were recently targeted in a new way by scammers. Since our website ranks high on Google, these scammers made an email address that is similar to ours using "HarmanCorgis" in the email address. They have created numerous fake pages with names like cutecorgipuppies, healthycorgipuppies, highqualitycorgipuppies, qualitycorgipuppies, affordablecorgipuppies, socializedcorgipuppies, welovepembrokewelshcorgipuppies, purebredcorgipuppies, welshcorgilovers, certifiedcorgibreeders, etc. Basically the name of words that people might search for when looking for a puppy. This group has upped their game – they will call you back and even send you a video. They have not stolen my pictures but are feeding off of my reputation and google ranking. Fortunately, I have had several people call me to see if it was a scam. As they get better, we have to get smarter. I have updated my list of what to watch out for below due to this incidence.
I encourage anyone looking for a puppy to look at the Signs of a Puppy Scam list below. Whether you buy a puppy from us or someone else, be suspicious of these signs.
The price seems too good to be true. Research prices of other puppies. If the price is extremely low it probably is a scam. You may be able to actually find a puppy for under $1000 but it will be RARE even in the post Covid market.
Their website or facebook page is not the same as their kennel name. Most breeders will use their kennel name for their webpage or social media accounts. Names that reflect key words that a buyer might search for reek SCAM like cutecorgipuppies, highqualitycorgipuppies, healthycorgipuppies, qualitycorgipuppies, affordablecorgipuppies, socializedcorgipuppies, welovepembrokewelshcorgipuppies. All of these websites are .coms which most of is would take as legit sites.
Their facebook page is newly formed and does not contain lots of dog pictures. Look back at the past 6 months of posts. Most scammers create a new page every time they get caught and have to change their name.
When you find one of these websites that is named based on key search words, see if there are other sites with similar names like the examples above. All of the sites above are identical sites with the same information and photos. They may just be rearranged a bit.
Look at the background in the puppy pictures. Most scammers steal photos from breeders so the puppies will not look alike and the backgrounds in the photos will vary. Breeders will most likely use the same background and props when picturing a litter of puppies. They will not normally take a photo of a puppy on a tile floor, another one outside on green grass, another one on a bed. Also ask for multiple photos of each puppy.
Many of these scammers will list puppies from different litters who are different ages. Not many breeders will have more than one or two litters at one time.
Look at spelling and grammar on their posts and website. I know that I have errors too but if sentence structure does not sound right, investigate more.
Sellers ask for money to be sent through a prepaid gift card, Wal-mart card, or requests that money is wired through Western Union. The scammer that targeted us actually asked for half of the money up front and that it be sent to Zelle.
Photos of the puppy can be found on other websites. Do a search for the text associated with the photo to see if the seller copied it from somewhere else. Asking for a video is not good enough these days – they are able to steel those too.
They only want to communicate with you through email. They do not list a phone number or will not answer the phone. Scammers are often located outside the United States and hide their phone numbers by only communicating through email or online.
Sometimes they will say that the pet is free and that you only need to pay for shipping. They may give you a sad story and tell you that it was a child's pet who is allergic, they have moved to a new residence that does not allow pets or have started a new job and do not have time for the pet.

Once committed, they often bill you for additional expenses like shipping insurance, additional paperwork, vaccinations, proper crate, etc. The documentation that they supply to you appears to be legitimate and from the airline.

They may even create a fake website showing stolen pictures of dogs. If they are selling purebred AKC dogs call AKC to confirm that the breeder is legitimate and the puppy actually exists. AKC's phone number is 919-233-9767.
These scammers are getting better and trickier. They are keying in on what good breeders do – socializing puppies, vaccinating puppies, starting puppies with potty training and crate training, etc. An 8-12 week old puppy will NOT be fully vaccinated or fully potty trained. Few will be fully crate trained. Their training should be started but they are too young to be fully trained!!!!
How to protect yourself from a puppy scam
Communicate with the seller in other ways than email.  Give them a call. Listen for a foreign accent.  Ask them very specific questions and research their answers.  They may act like they have a poor cell connection in order to look up answers to the questions that you ask.  Ask for their name and address.  Call them back several times if you are still wary.
We welcome calls anytime.  Call Leslie at 806-202-2176
Research them.  Look up their website, facebook page, other forms of social media and the owners that are listed. If something does not match up watch out.  
 Look at reviews on the seller or breeders' Facebook or Google accounts.  Unfortunately, if they can make a website they can probably create fake reviews. 
Feel free to check us out on Facebook and Instagram at Harman Corgis
Ask the breeder for references.  Legitimate breeders will be happy to get you in touch with previous buyers, their veterinarian or breed associations such as AKC, past buyers or their veterinarian. .
We will be glad to provide you with contact information for previous buyers or our veterinarian at Hansford County Vet Hospital in Spearman Texas. 

Research them on social media. If they don't have multiple pictures of dogs or dog type posts listed they probably are not breeders. Breeders like to showcase their babies. 

If it is a purebred dog, contact the breed registry like AKC to make sure that they are breeders and have registered puppies within the time frame of the puppy that you are looking at.  Also verify their address with AKC. 
Ask to do a zoom meeting or facetime to see the puppy in live time.  Scammers are getting smart about this too and are able to show you a recorded zoom meeting so ask them to do something specific during the video call like "Please pick up the puppy and show me his stomach", "Please throw a toy so that I can see it he will chase it", or ask for a picture of the puppy which includes a piece of paper with your name or something unique written on it. 
We prefer that all of our buyers do a zoom meeting with us to pick out their puppy.  That way they can see that the puppy is actually there and get to watch how he interacts with people and other puppies.  It is also a great time to discuss the temperament of the puppy, contracts, etc.  
We would love to hear from you. We can help you find your next best friend.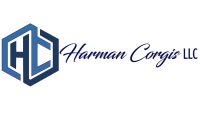 Phone:  Leslie 806-202-2076
               Wayne 806-202-2175
Email: Leslie@harmancorgis.com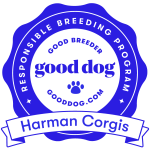 What Our Customers Have to Say
We purchased a puppy from The Harman's and are absolutely in love! Our dog Moose is super sweet and loving. He has the very best temperament and loves kids! He also loves to be around other animals. We couldn't be happier with our new dog!
Kelly J.
Spearman, Texas
On advice of a close friend we inquired about a female pup. We have a male and wanted a female to hopefully breed a few litters. We were sent text pictures of all the pups and immediately picked our "Lucy". It was love at first sight! Lucy has been all we could of wanted. Her name fits her personality and we are anxious to see her in a mother capacity. Dealing with the Harmans has been a blessing. Both business wise and personally . All paperwork was delivered with the pup and Leslie truly loves getting text pictures of her pups as they develop.
Larry B.
Marion, Texas
" I had a great experience buying a puppy from the Harman's. The puppy we received was in great health, and is continuing to develop into a great companion/ barn dog. The Harman's provided me with plenty of information and advice on raising my new puppy. Great Corgis, Great people!"
Joshua T.
Robstown, Texas
I purchased my male corgi, Mudflap, from the Harmans. They were so kind and answered my many questions. They even met us half way to pick him up. "Muddy" is a great dog and he is built just how I feel a corgi should be— He is short and wide and has a great temperament. I'm very happy with my pup! He is now 9 months old. -
Kendra from KBI Farms
Ozark, Arkansas
We purchased a Harman Corgi puppy in June of 2018. At the time we also had an 11 year old female Corgi. We knew we loved this breed of dogs and we so excited to get a new one. We were over the moon about our sweet Lola Marie when she came to us, from Perryton. We have two daughters, ages 12 and 7. Needless to say Lola has plenty of attention and love from our family. I quickly learned she was going to be easy to housebreak, potty train, and crate train. We live on a small farm so she has plenty of space to run, play, and explore. She plays outside with our other dogs during the day and comes in the house to sleep at night. She is amazing with our children! She fits right in with our other dogs, as well. She loves to help with the livestock and you can tell she has "pig raising" in her blood. She is quick to assist with penning, walking, and herding. Most of all our Lola is a companion. She loves to be a lap dog, give kisses, go to town to run errands, and cuddle up with our girls. Lola is full of personality! She is a wonderful pet and so so smart! Another Harmon Corgi is probably in our family's future!
Kaki C.
Lubbock, Texas