What does it cost to own a dog?
Are you financially ready?
What does it cost to own a dog?  It seems like the price of everything has increased over the past year.  We have seen a price increase in vet visits, vaccinations, dog food, etc.  This exercise will help you decide if you are financially ready to get a puppy.
We suggest that you print the Puppy Budget Worksheet to help you get a better idea of expected costs involved with getting a puppy.
Call your veterinarian or multiple vet clinics in your area to see what they charge for puppies.  
For the first year you will be looking at…
A wellness check within 3 days of getting your puppy
Vaccination visits – Your puppy will need a minimum of 3 to 4 DAPPV vaccinations plus rabies. Additional vaccinations may be recommended by your vet or required if you plan on boarding your dog. Vets will often want to do a fecal check during these visits as well. Ask for the price of the visit and vaccinations
Worming medications – Your vet will normally place your puppy on a worming protocol. Ask what wormer they normally recommend and its cost.
Flea & Tick medication – Your vet will normally place your puppy on a preventative flea & tick medication. Ask for the monthly cost of the medication.
Spay/neuter – If you are purchasing a puppy with limited registration for a pet, my contract will require that you provide proof that your puppy was spayed or neutered normally by 9 to 12 months of age. Ask what this will cost and when your vet recommends for this to occur.
After the first year you will be looking at…
Annual vaccinations
Routing annual vet visit
Teeth cleaning
Worming medications
Flea & Tick medication
All dogs need training but due to the energy level, herding nature and personality of Corgis training is critical to creating a dog that will successfully fit in with your family and be able to function in a human world.  Untrained dogs create stress for their owners and the relationship is filled with tension. 
Corgis will require daily training!  Without training you are going to have a bossy, high energy dog that more than likely will add stress to your life because it will not listen to you. 
You will need some form of training.  Here are some forms that we know work with Corgis. We will provide you with links to some training videos but feel that the following are good options to train your puppy. 
Puppy classes – Check to see what these classes cost, requirements for puppies to be able to attend, what is taught in these classes, and how long the class lasts.  
Obedience classes – Once you complete the puppy class you will probably want to enroll your puppy in an obedience class to learn basic manners.  Check to see what these classes cost, what will be taught and how long they last. 
Baxter & Bella Online Puppy School – This is a great option for those of you who can not attend a puppy class in person.  
We purchased this training and tried it out on our own dogs before becoming a partner with Baxter & Bella.  Learn more about the Baxter & Bella online puppy school and how to get a 25% discount by clicking the following link.
You will need to feed a high quality food.  This will ensure that you dog is getting the nutrition that they need.  High quality foods mean higher digestibility, help reduce health problems and allergies and cause fewer digestive problems that can lead to vet visits. We feed and recommend Purina ProPlan puppy food and adult food.  A couple of other items that we recommend are fish oil to help with shedding and a probiotic called Fortiflora.  We recommend having Fortiflora on hand in case your puppy has a digestive upset.  
Basic supplies including items like bowels, a crate, collars as they grow in size, exercise pens to set up your puppy's area, litter box and litter (if you choose to continue using a litterbox until your puppy is house broken) a harness, combs, puppy shampoo, nail clippers, etc.  Check out our Recommended Products for Corgis section of our website for information on these items.
Look into the cost of puppy food and basic supplies that you will need.  Puppies will need a lot of chews and toys to help with teething and prevent them from chewing up your property.  A bored Corgis is a destructive Corgi.  These little dogs are avid chewers so expect for them to destroy toys and chews,  You might look into a monthly subscription like Barkbox.  Each box includes high quality toys and they even offer a box for Super Chewers if needed. Click on the link below for special BarkBox savings!!!
Some people buy pet insurance while others stash away an emergency fund in case their puppy gets sick or needs surgery.  
There are lots of insurance companies out there.  Ask your veterinarian or friends for recommendations and shop around to get the coverage that you need. 
Basic grooming can be done at home (nail trims, hair care and bathing).  If you do not plan on taking care of these items please call several groomers in your area and price these services.  Also ask the groomer how often they recommend Corgis to be groomed.
We would love to hear from you. We can help you find your next best friend.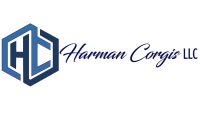 Phone:  Leslie 806-202-2076
               Wayne 806-202-2175
Email: Leslie@harmancorgis.com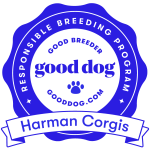 What Our Customers Have to Say
We purchased a puppy from The Harman's and are absolutely in love! Our dog Moose is super sweet and loving. He has the very best temperament and loves kids! He also loves to be around other animals. We couldn't be happier with our new dog!
Kelly J.
Spearman, Texas
On advice of a close friend we inquired about a female pup. We have a male and wanted a female to hopefully breed a few litters. We were sent text pictures of all the pups and immediately picked our "Lucy". It was love at first sight! Lucy has been all we could of wanted. Her name fits her personality and we are anxious to see her in a mother capacity. Dealing with the Harmans has been a blessing. Both business wise and personally . All paperwork was delivered with the pup and Leslie truly loves getting text pictures of her pups as they develop.
Larry B.
Marion, Texas
" I had a great experience buying a puppy from the Harman's. The puppy we received was in great health, and is continuing to develop into a great companion/ barn dog. The Harman's provided me with plenty of information and advice on raising my new puppy. Great Corgis, Great people!"
Joshua T.
Robstown, Texas
I purchased my male corgi, Mudflap, from the Harmans. They were so kind and answered my many questions. They even met us half way to pick him up. "Muddy" is a great dog and he is built just how I feel a corgi should be— He is short and wide and has a great temperament. I'm very happy with my pup! He is now 9 months old. -
Kendra from KBI Farms
Ozark, Arkansas
We purchased a Harman Corgi puppy in June of 2018. At the time we also had an 11 year old female Corgi. We knew we loved this breed of dogs and we so excited to get a new one. We were over the moon about our sweet Lola Marie when she came to us, from Perryton. We have two daughters, ages 12 and 7. Needless to say Lola has plenty of attention and love from our family. I quickly learned she was going to be easy to housebreak, potty train, and crate train. We live on a small farm so she has plenty of space to run, play, and explore. She plays outside with our other dogs during the day and comes in the house to sleep at night. She is amazing with our children! She fits right in with our other dogs, as well. She loves to help with the livestock and you can tell she has "pig raising" in her blood. She is quick to assist with penning, walking, and herding. Most of all our Lola is a companion. She loves to be a lap dog, give kisses, go to town to run errands, and cuddle up with our girls. Lola is full of personality! She is a wonderful pet and so so smart! Another Harmon Corgi is probably in our family's future!
Kaki C.
Lubbock, Texas