Steps to getting your next best friend
As responsible heritage breeders, we try to make sure that each and every one of our puppies are placed in the right home for both the dog and the new owner.  When you add a puppy to your family you are making a 10 to 15-year commitment.  The perfect home for a Harman Corgi is one where the dog will be an integral part of your family meaning that the dog will go with you as much as possible, join in activities that you like, live in your home, and be fed and exercised properly.  The perfect family will make sure that vaccinations are up to date, seek veterinary help when needed, continue the training that we have started, and add enriching and stimulating activities to their dog's life.  We know that successful matches are made by taking the time to match the right dog with the right family. 
Step 1: Is a Harman Corgi right for you?
Research the breed to make sure that a Corgi is a fit for your lifestyle.  They are cute adorable dogs but they don't fit everyone's lifestyle.  Pembroke Welsh Corgis are wonderful dogs but they are not for everyone.  Like every breed, they have both good and bad points to consider.  
Are we the right breeder for you?
If you are looking for a Corgi puppy now or in the very near future we are not the right breeder for you.  You will be on our waiting list for 6 months to over a year before we have the right puppy for you.
If you are looking for a cheap Corgi puppy we are not the right breeder for you.  We spend countless hours working with our puppies to give them a solid foundation to become dogs that can function in a human world before they ever leave our care.  Our puppies are raised using components from Puppy Culture and Avid Dog which is reflected in our price. 
Step 2: Apply by completing the "Getting to Know You Form"
When we have litters we place our puppies with people on our waiting list first.  Since we normally have numerous people on the waiting list, we rarely have puppies available to people not on our list.  
This information will help us get to know you and your family a little bit better so we can help you find the perfect Corgi for your family.  We would like to learn more about you and what you are looking for in a Corgi.  There are no right or wrong answers we simply do this to learn a little bit about you and what you're looking for and will fit your lifestyle.  Please provide an email address on the form that you check daily.   Things will move very quickly once you are close to picking your puppy.  It is not fair to others on the list to wait for someone to respond.
We will review your information and contact you if we have additional questions.  We reserve the right to deny anyone at anytime if we feel that they are not a good fit for one of our puppies
Once we have reviewed your  information and feel like you will be a good fit for one of our puppies, we will email you back to let you know that you have been approved.  If you would like to proceed we will invoice you for the $200 deposit to show that you are sincerely interested in adopting one of our puppies.  This deposit will be deducted from the final price of your puppy.  This deposit is refundable less a $50 processing fee up to the time you choose your puppy.
We want our dogs to go to families that are committed to their pets and we find that people who are committed to getting a puppy from us are willing to wait for the right puppy and have no problem putting down a deposit.  This helps "weed" out people who are on multiple breeders waiting lists and are looking for the first puppy that comes along.  
Due to the high incidence of scams we are now taking all payments through secure credit processing services.  We offer 2 options.
Invoice through Quickbooks.  You will be able to pay online using a credit card, debit card or bank transfer. We will pay all processing fees.
Invoice through Good Dog. You will have the option of  paying by card (you will pay a 3% standard processing fee) or pay by bank transfer without any fees.  When paying through Good Dog you will have the option of paying for Protection & Support or not.  If you choose the  Protection & Support option, a fee of $15 will be added.  This protects you as a buyer and insures that your payment is protected against scams.  
Expect to wait 6 months to a year or more for your puppy.  Before you submit your deposit we will inform you about the expected wait time.  Sometimes opportunities arise and you will be able to get a puppy earlier than anticipated if it fits your time frame.  
Once you are on the waiting list we will update you about what is going on here at Harman Corgis through our monthly – bimonthly newsletter. You may receive periodic updates with pictures and videos of babies too even if you are on a later waiting list. 
We suggest that you follow our Harman Corgis facebook page and Harman Corgis YouTube channel where we will periodically post updates and videos.
We reserve the right to remove individuals from the waiting list who do not respond in a timely manner (24-48 hrs) to multiple email attempts.  We also reserve the right to remove individuals in light of new insights where we no longer feel that one of our puppies will not be a good fit.  
Step 5: Picking Your Puppy
When the puppies are 3-6 weeks old we will contact people on the waiting list to see if it is a good time for them to adopt a puppy.  We will work down the list from the top contacting people whose preferences correspond with our available puppies. If it is not a good time for you to get a puppy you may pass and we will contact you again when we have another litter.  
Puppies will be vet checked around 6 weeks of age. Once they receive a clean bill of health, the puppy picking will begin.  We will contact interested people in the order that they were placed on the waiting list and send them information on available puppies.  Please note that prices will be grandfathered to the price range listed on the website at the time you were placed on the waiting list.  If you have been offered a puppy that fit your preferences and have passed twice, we reserve the right to increase pricing to current prices or you may choose to be removed from our waiting list.
We will schedule a video chat through Zoom to allows you to see how the puppies interact with us and other puppies. It also allows us to answer any questions that you might have, discuss their personality, and where they are in their training.  If you are unable to video chat we can send a video but we will need to know in advance so that it can be scheduled.  We want to make sure that you get the puppy that fits your lifestyle and what you're looking for, so we will be there to help you through the process.  
Once the first person on the list has chosen, the next person on the list will be contacted and the process will continue down the list.  As you can imagine sometimes this takes a few days so please be patient.
Once you have selected your puppy, it will be reserved for you and will not be available to anyone else. Your deposit will become nonrefundable at this point and I will start on your paperwork. If you choose to back out once you have selected your puppy you will forfeit your deposit and be removed from our waiting list.
You will be given access to the restricted Buyers area of our web site under the Resources tab.  Once you login you will be able to access tons of information that will help you with getting ready for your puppy as well as training videos.  We also encourage you to join our Harman Corgis Owners Facebook Group.  This is a great place to bounce ideas off of current Harman Corgi owners and see updates on littermates to your puppy.  If time allows we will update you with pictures or videos when they are around 8 weeks of age so you can watch their growth.  We encourage you to subscribe to our Harman Corgis YouTube channel to stay up to date when we post litter videos.
If everyone on the waiting list for a particular time frame is contacted and a puppy remains unsold, we will post available puppies on our website or sell the puppy in a different manner. 

Puppies will be ready to go to their new homes when they are approximately 9 weeks old.  Once you have selected your puppy we will start planning pickup or delivery options, complete necessary paperwork, and get you ready for a new puppy. 
We suggest that you look at the Preparing for your Puppy section of our website under the Resources Tab to start preparing for your pup.  There is a wealth of information in our Buyers area that can help you prepare for your pup.
Paperwork & Final Payment
We will start completing the paperwork once you have chosen your puppy.  This will include
Contract & Health Guarantee – We will email you a copy of your contract which will be signed electronically and sent back to us.  We must have a returned signed contract before your puppy can leave our care.
Invoice – We will email you an invoice for the balance due. The balance must be paid in FULL a week prior to your puppy leaving to ensure adequate time for processing. We will invoice you for the final payment which will be taken through a secure payment site (QuickBooks or Good Dog) where you may pay with a credit card or debit card.  If you are picking up your puppy in person,  the final payment will need to be made in cash. To learn more about Good Dogs Buyer Protection & Support plan click here. 
Microchip Enrollment – We will provide you with your puppy's microchip number and information on how to enroll the chip with AKC Reunite.  We require that the microchip be enrolled prior to the puppy leaving our care.  This ensures that you will be the first contact if your puppy gets lost.  This one-time fee of approximately $20 will ensure that your puppy is covered for the rest of its' life.  
Registration Application – We register each litter when they are born.  If you would like to complete the registration process so that your dog is registered, you will need to complete the Registration Application found in the blue folder in your Puppy Care Package. 

This process can also be accomplished online. 

Your dogs' registered name will need to begin with "Harman Corgis".    In certain cases, some litters may come with prepaid registration.  In those cases you will need to provide Leslie with the name of your puppy beginning with "Harman Corgis" and she will complete the paperwork for you.
Transportation arrangements – We will set up transportation arrangements as soon as we know where all puppies in the group are going.  We will send you details once they are made.
We offer multiple pick up and delivery options.  Buyers are responsible for all transport costs.
Delivery options include ….
Ground Transportation – We primarily use a Texas based pet transporter based. He has speedily delivered puppies across Texas and the nation for us at very reasonable prices.  If you are in Texas this may be your best and most cost-effective option – we have been able to deliver dogs all over the state for $300 or less.  If you are interested in this option contact us and we will be glad to get a quote.
Meeting us – Due to biosecurity measures we no longer allow visitors to the farm to pick up their puppy. We are willing to meet in a location within an hour's drive from us. If we meet in a location further away we may charge a small delivery fee to help cover the cost of fuel. These arrangements may be coordinated by Wayne.
Flight options – we do not ship puppies in the cargo area of planes. We do however offer the following options to fly puppies.  Note that both options may require a health certificate which will be an additional fee.

Meet you at the airport – we will meet you at Amarillo's Rick Husband airport where you can pick up your puppy and fly home with them in the cabin of the airplane. You are responsible for making flight arrangements and paying extra fees to travel with your puppy as well as bringing an airline-approved pet travel bag that will fit under the seat of the plane.  If you would rather fly into Oklahoma City we can also meet you there for an additional fee.  Please check with us before booking flights to make sure that we will be able to meet you on a specific day and time. Remember that we are 2 hours away from Amarillo and 3 hours and 45 minutes away from Oklahoma City so we must make plans in advance.
Flight Nanny service – We can arrange a flight nanny to fly your puppy to an airport near you where you.  Your puppy will fly in the cabin of the airplane.  Flight nanny fees must be paid in advance to booking the flight.
We would love to hear from you. We can help you find your next best friend.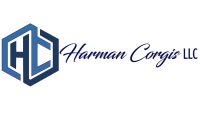 Phone: Leslie 806-202-2176
Wayne 806-202-2175
Email: Leslie@harmancorgis.com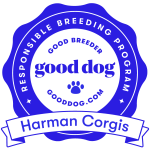 What Our Customers Have to Say
We purchased a puppy from The Harman's and are absolutely in love! Our dog Moose is super sweet and loving. He has the very best temperament and loves kids! He also loves to be around other animals. We couldn't be happier with our new dog!
Kelly J.
Spearman, Texas
On advice of a close friend we inquired about a female pup. We have a male and wanted a female to hopefully breed a few litters. We were sent text pictures of all the pups and immediately picked our "Lucy". It was love at first sight! Lucy has been all we could of wanted. Her name fits her personality and we are anxious to see her in a mother capacity. Dealing with the Harmans has been a blessing. Both business wise and personally . All paperwork was delivered with the pup and Leslie truly loves getting text pictures of her pups as they develop.
Larry B.
Marion, Texas
" I had a great experience buying a puppy from the Harman's. The puppy we received was in great health, and is continuing to develop into a great companion/ barn dog. The Harman's provided me with plenty of information and advice on raising my new puppy. Great Corgis, Great people!"
Joshua T.
Robstown, Texas
I purchased my male corgi, Mudflap, from the Harmans. They were so kind and answered my many questions. They even met us half way to pick him up. "Muddy" is a great dog and he is built just how I feel a corgi should be— He is short and wide and has a great temperament. I'm very happy with my pup! He is now 9 months old. -
Kendra from KBI Farms
Ozark, Arkansas
We purchased a Harman Corgi puppy in June of 2018. At the time we also had an 11 year old female Corgi. We knew we loved this breed of dogs and we so excited to get a new one. We were over the moon about our sweet Lola Marie when she came to us, from Perryton. We have two daughters, ages 12 and 7. Needless to say Lola has plenty of attention and love from our family. I quickly learned she was going to be easy to housebreak, potty train, and crate train. We live on a small farm so she has plenty of space to run, play, and explore. She plays outside with our other dogs during the day and comes in the house to sleep at night. She is amazing with our children! She fits right in with our other dogs, as well. She loves to help with the livestock and you can tell she has "pig raising" in her blood. She is quick to assist with penning, walking, and herding. Most of all our Lola is a companion. She loves to be a lap dog, give kisses, go to town to run errands, and cuddle up with our girls. Lola is full of personality! She is a wonderful pet and so so smart! Another Harmon Corgi is probably in our family's future!
Kaki C.
Lubbock, Texas