Pricing & What's Included
There are multiple factors that go into the prices of our Corgi puppies.  Prices vary depending upon Registration, Breed Registry, Parents and Color.
Limited vs Full Registration
Limited Registration is intended for dogs that will be pets. You can not register offspring from a dog with limited registration and they can not be shown in AKC breed specific or sanctioned shows. We require our puppies that are sold with Limited Registration to me neutered or spayed by the age of 9 months as specified in our contract.
Full Registration is intended for dogs that will be bred or shown in AKC breed specific or sanctioned shows.
Most of our puppies are sold with limited registration as pets. Please ask if you are interested in Full Registration.
The majority of our Corgis are registered with AKC however we do have a couple that are CKC registered.  
Most of our puppies will be Red, Sable, or Tris with white points.  We call these our standard colors
Hard to get colors include Bluies (this is a dilution of the dog's coat color NOT a Merle) and Fawns.  Bluies occur in Tris, Sables and Reds.
CKC Limited Registration on standard colored puppies start at $900
AKC Limited Registration on standard colored puppies start at $1200
CKC Limited Registration on Fawn and Bluie colored puppies start at $1000 – 1300
AKC Limited Registration on Fawn and Bluie colored puppies start at $1,400 – 1800
Call for Full Registration pricing. Full registration normally starts at additional $400 – 500 above Limited Registration prices
Many people ask why our prices are lower than other breeders. If you look up our location you will see that we are in an isolated area that is 2 hours away from the nearest airport. This means that most people will have the extra expense of shipping their puppy, therefore we try to keep our prices lower.
What is included in your pricing?
We are there for our buyers and puppies.  You are always welcome to contact us if you have a question or concern and we will do our best to help you.  
We love to stay in touch with buyers and see our puppies grow into beautiful dogs. 
If for some reason you are no longer able to take care of your Harman Corgi, we will work with you to help find a new home for your baby to make sure that the dog is not placed in a shelter.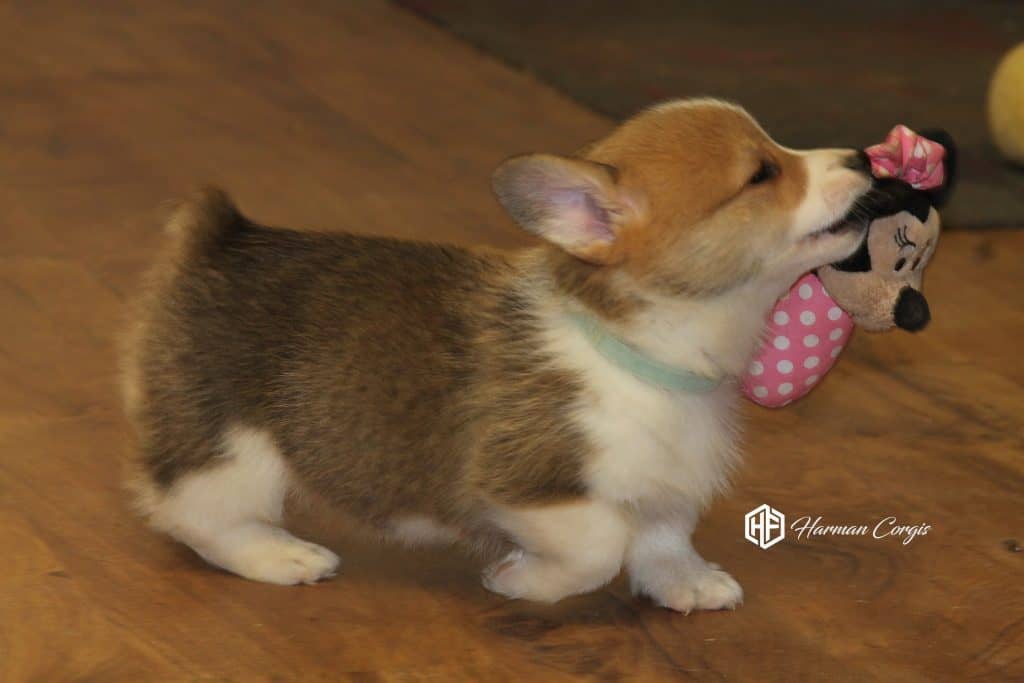 Your puppy will be well on its way to being house trained.  Our puppies have been trained to use a litter box, pee pad or grass.  Buyers often remark how easy it is to complete house training our puppies.
Need help finishing house training your puppy?  When you purchase a puppy from us you will gain access to the restricted Buyer Resources area of our website where we offer resources to complete the process.  We are also available to answer questions if needed.
All of our puppies have started crate training.  We train our puppies to sleep in a crate with the door open then work with them individually so that they learn that their crate is a safe place.  While crate training we give them special treats to keep them busy and reassure them that a crate is a safe place.
You can find more information on Crate Training in our Buyers Resources. 
Our puppies have started on clicker training.  We use clicker training to help train your puppy with positive reinforcement and recommend that you continue using the clicker to help your puppy learn the behaviors that you want them to learn. 
Your puppy will come with a clicker and access to training resources in our Buyers Resources that will help you learn the process.  Since your puppy has learned the basics, you will be able to continue training where we leave off.
No one wants an unruly dog so our puppies have started basic obedience training.  This means that your puppy will know how to sit and ask for things 

politely

 and walk on a leash.   
Your puppy will come with a collar and leash that match the color of your puppy's ID collar.  If you do not like this color, please let us know and we will replace it with an acceptable color.
We offer a one-year genetic health guarantee on all of our puppies.
All puppies are vet checked at 6 to 7 weeks old and are up to date on age appropriate vaccinations and deworming.
Our puppies come microchipped. Because we know this can save their life if they get lost, we will help you enroll your puppy with AKC Reunite before your puppy leaves.
When you place a deposit on a puppy you will receive access to the restricted My Puppy area of our website.  There you will be able to download pictures of your puppy and see updated pictures and videos.   
We will update pictures when puppies are 7 weeks old so you can see them grow.  When time allows we will post pictures or videos on a weekly basis.
When you buy one of our puppies you will be given access to the restricted Buyers Resources area of our website. There you will find information to help you prepare for bringing home your puppy, training videos and information that you can use to train your puppy into the perfect dog. 
We send our puppies home with a care package to help you get started.  This includes a sample of food, clicker, toys like the ones played with here, collar, leash, a blanket that smells like mom and littermates, teething aids such as a cow hoof or pig ear and all necessary paperwork including registration application, microchip information and vaccination record.
What's special about a blanket that smells like mom and siblings?  Dogs have very sensitive noses and your house will smell different.  This blanket smells like home and can help comfort your puppy when they are whiny and adjusting to their new home. 
All of our Corgis are genetically tested for DM, EIC and VWD1.  This data is used when planning matings to ensure that your puppy will not inherit these diseases.  
We are currently working on OFA hip and elbow testing for our adult dogs as well. 
Your dog's registration application will be included in the Puppy Care Package.  It is easy to register your puppy online or you can complete the paperwork and mail. 
We hope to form a long-lasting friendship with the new parents of our puppies.  We love updates and pictures and strive to keep you in touch with what's going on here through our website and Harman Corgis facebook page.   
What Our Customers Have to Say
We purchased a puppy from The Harman's and are absolutely in love! Our dog Moose is super sweet and loving. He has the very best temperament and loves kids! He also loves to be around other animals. We couldn't be happier with our new dog!
Kelly J.
Spearman, Texas
On advice of a close friend we inquired about a female pup. We have a male and wanted a female to hopefully breed a few litters. We were sent text pictures of all the pups and immediately picked our "Lucy". It was love at first sight! Lucy has been all we could of wanted. Her name fits her personality and we are anxious to see her in a mother capacity. Dealing with the Harmans has been a blessing. Both business wise and personally . All paperwork was delivered with the pup and Leslie truly loves getting text pictures of her pups as they develop.
Larry B.
Marion, Texas
" I had a great experience buying a puppy from the Harman's. The puppy we received was in great health, and is continuing to develop into a great companion/ barn dog. The Harman's provided me with plenty of information and advice on raising my new puppy. Great Corgis, Great people!"
Joshua T.
Robstown, Texas
I purchased my male corgi, Mudflap, from the Harmans. They were so kind and answered my many questions. They even met us half way to pick him up. "Muddy" is a great dog and he is built just how I feel a corgi should be— He is short and wide and has a great temperament. I'm very happy with my pup! He is now 9 months old. -
Kendra from KBI Farms
Ozark, Arkansas
We purchased a Harman Corgi puppy in June of 2018. At the time we also had an 11 year old female Corgi. We knew we loved this breed of dogs and we so excited to get a new one. We were over the moon about our sweet Lola Marie when she came to us, from Perryton. We have two daughters, ages 12 and 7. Needless to say Lola has plenty of attention and love from our family. I quickly learned she was going to be easy to housebreak, potty train, and crate train. We live on a small farm so she has plenty of space to run, play, and explore. She plays outside with our other dogs during the day and comes in the house to sleep at night. She is amazing with our children! She fits right in with our other dogs, as well. She loves to help with the livestock and you can tell she has "pig raising" in her blood. She is quick to assist with penning, walking, and herding. Most of all our Lola is a companion. She loves to be a lap dog, give kisses, go to town to run errands, and cuddle up with our girls. Lola is full of personality! She is a wonderful pet and so so smart! Another Harmon Corgi is probably in our family's future!
Kaki C.
Lubbock, Texas