Recommended Products for Corgis
Below you will find our recommended products for Corgis.  Over the years we have tried a number of different products.  These are items that we use here with our Corgis or have been recommended to us by past buyers.  
Preparing for your puppy ahead of time will help the transition go smoothly. These is a lot to do before getting a puppy and making sure that you have necessary supplies on hand will make the process go smoothly.  To help you with this process, we have tried to assemble almost everything that you might need in the list below. 
Our puppies are fed Purina Pro Plan Puppy Chicken & Rice under one year. There are two versions of this food. One is just kibble and the other has shreds or pieces of dried chicken. I have fed both but I prefer to start puppies out on the kibble only variety and switch to the version with shreds once they are a bit older.
Once again the puppy food comes in several flavors and a variety of sizes. We are believers in rotating food flavors in our puppies. This gives them variety and some research shows that rotating protein sources may reduce the risk of allergies and food intolerances that might become a problem in adulthood. We simply suggest rotating flavors (protein sources) through puppy hood.
If you are adamant about changing brands, we recommend that you wait until they have had time to adjust to their new home then gradually make the change.
Supplements for puppies & adults
Our puppies are given half of a NuVet Plus vitamin each day while under our care. Research shows that these vitamins may strengthen a puppy's immune system which will be important during the most stressful time of their lives, when going to their new home. I find that my dogs and puppies actually like the taste of these vitamins too. This company has been around since 1997 and offers a money back guarantee so check them out through the link below.
I also recommend having the probiotic Fortiflora on hand in case your puppy has diarrhea or goes off food. The transition of going to a new home is very stressful on puppies therefore I suggest feeding it for the first week.
Double coated breeds like Corgis shed. Feeding a high-quality food and supplementing with fish oil can help. I feed one pump of Grizzly or Terramax Pro fish oil daily to all of my dogs. It makes their coats very shiny and helps with shedding. Just like in humans it helps prevent heart disease and arthritis along with multiple other benefits. I start adding fish oil once our pups are around 6 months old.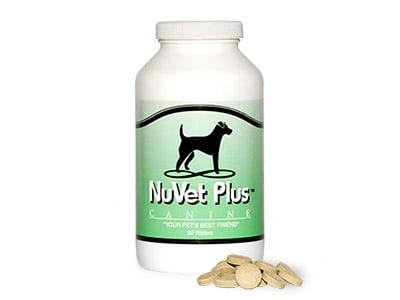 Our puppies and dogs receive NuVet vitamins to strengthen their immune system and ensure they get all needed nutrients.

Our puppies leave us taking 1/2 of a vitamin daily.
Research continues to show us that "you are what you eat" and dogs are no exception. We now know that environmental factors such as food plays a major factor in many diseases that dogs develop including cancers and hip dysplasia.  Not all dog foods are created equal, in fact there most dog food companies do not perform research trials on the dog food that they produce.  Feeding a high quality dog food has been shown to extend the life of pets and reduce some diseases including those that dogs are genetically predisposed to.  
We feed and recommend Purina Pro Plan, Purina's top dog food.  This company is committed to nutrition with a team of scientists, nutritionists and veterinarians on staff. They have created and tested over 140 formulas targeted for every life stage of dogs and this food is recommended by many veterinarians.  
We recommend Purina Pro Plan Complete Essentials Adult food for your grown Corgi.   This food contains kibble along with shreds of real meat that our dogs love.  There are multiple flavors including chicken, beef, lamb, salmon and turkey that dogs love.  It also comes in a variety of sizes from 5 to 47 lbs. which allows you to try different flavors and switch between flavors for variety too. 
Another good dog food for Corgis is Hills Science Diet. In the past I have fed both the adult version and the puppy version. 
The only food that I would stress that you do not feed is Blue Buffalo.  I known of several instances where dogs on this food developed pancreatitis and died.  Please talk to your veterinarian and do some research before you switch.
We often get asked about our dogs' favorite toys.  Our dogs like toys that crinkle, have realistic fur and make a sound. 
As babies, we have a variety of toys with different textures and sounds.  We trade out toys every day so they have a different toys to play with each day.
We try to stay away from highly stuffed toys because dogs can tear them open and eat the stuffing which may cause an impaction that could require surgery.
Please supervise your dog if they are playing with a stuffed toy to ensure that they do not tear it open and eat the stuffing.
Keeping your dog's mind active can also reduce boredom.  Interactive toys like Hide a Squirrel and Bob a Lot treat dispenser keep dogs occupied and can significantly reduce boredom.  
I prefer to buy toys online and not in stores where other dogs may have mouthed a toy.  I cringe at the thought of a dog picking up an illness from a slimmed toy in a store. 
Bark Box can be another great option for your pup. I am a HUGE BarkBox fan!
Your pup will get a themed box every month which contains toys and treats.
When there is something in the box that your pup does not like (treats or toys) they will replace the item.
My dogs love when the box arrives and what is inside.
They toys are pretty durable. They encourage play with crinkle and squeaky sounds and different textures. They love getting a new treat too that we can train with.
Just like kids, you will find that pups will get bored with their toys and will become super excited with a new toy or chew.



For special discounts click on the offer below.
Interactive & active play toys
Crates come in either a plastic form or a wire form and both have advantages. 

Plastic crates may be sturdier if you plan on containing your dog in a crate.  When purchasing a plastic crate, I look for ones that are sturdy, bolt together and are around 28-30 inches long like a Petmate crate. The downside of a plastic crate is that some dogs will chew on them. 

Wire crates may have a divider that you can adjust so you can buy one crate that your puppy will grow into.  If you choose a wire crate, I would look at buying one with heavy wires that have a divider so you can make it larger as your puppy grows. I like the Midwest wire crates.  You probably need one that is around 30 inches long.  They come with either one door or two doors. 

You may want to use a towel in the bottom of the crate while your puppy is young and change to a crate pad as they get older.  Our puppies are used to sleeping on a crate pad in a wire crate with the doors open. Make sure to buy a pad that fits your crate and is machine washable. 


Beds – I have reports from many people who say their Corgi loves a donut bed.  Corgis are chewers so if you use a stuffed bed make sure that they do NOT chew a hole in the bed where they can pull out the stuffing.  Eating stuffing can lead to emergency surgery!

My dogs sleep on raised beds.  The Kuranda beds are expensive but they last.  The fabric is not exposed on the edges therefore dogs can not chew on it.  We use the Kuranda bed with metal-covered corners for extra chew protection and 40 oz solid vinyl sleeping top.  Our smaller dogs sleep on the Small (30 x 20) size while our larger dogs sleep on the medium (35 x 23) size.  They last for years and you can replace the tops if needed. 
All of our dogs have a Kuranda bed.  Corgis are hot natured because they are double coated and will not normally sleep in a padded bed but will sleep on a cool tile, concrete or wood floor. Because these beds are elevated they are cool.  I have both the PVC and Aluminum frames with the heavy duty vinyl.  I have both the 30×20 and 35×23 sizes.  The smaller size fits most Corgis but I do have some larger dogs that love to stretch out and they need the larger size. 
These beds are more expensive but they last forever.  I have never had one destroyed, they are easy to clean and can also go outside.  If you do have a corner or leg that gets chewed up they also sell replacement parts which I love.  There are many imitation beds on the market but none match these beds.

Food & Water Bowls plus more
I prefer stainless steel bowls because they are so easy to clean in a dishwasher and do not break.  These bowls come with or without non-skid bottoms. I recommend a medium-sized bowl that holds approximately 2 quarts.
If your puppy inhales his or her food without taking the time to chew you might consider a Slow Feeder bowl.  Lick mats are great tools to help keep a puppy occupied while getting a bath or just keeping them occupied.  
Potty box, washable potty pads & hanging bell
Your puppy will be litter box trained and will be used to going to the bathroom outdoors.  I use a 24 x 24 inch rabbit tray to hold litter.  For litter, I purchase pelletized alfalfa pellets (shown below) or hardwood pellets.  Pine pellets used in horse stalls may cause allergic reactions in some dogs.  I am able to purchase all of these items at Tractor Supply.  I realize that you may not have this store in your area so I have listed an alternative tray and some pelletized paper products that can also work.  In my experience, I find that the paper pellets become sticky when they get wet.



View the video below of my suggested pen set up.  

I prefer washable pee pads.  Puppies often think that the disposable pee pads are toys and shred them. 
I also suggest Bell Training your puppy to alert you when they need to go out to the bathroom.  You can purchase a bell that hangs from a doorknob or simply attach a piece of string to a bell and hang from a doorknob. A Bell Training Guide will be included in the Buyers Resources section. 
Collars, Leashes, ID Tags & Harnesses
When it comes to collars, even though your puppy is microchipped it will need a collar with ID tags. ID tags that dangle often get hung on things and can get pulled off. For that reason, I like the slide on collar ID tags or collars that are personalized with your information. For standard collars, I like the Lupine, Blueberry or RC Pet brand collars. They are sturdy yet lightweight, washable, come in many colors and designs and can be adjusted 8-10 inches. My adult female dogs wear 3/4 inch Lupine collars that are 12-22 inches long. Lupine collars are guaranteed even if they are chewed. My adult males wear 1-inch wide Lupine collars that are 16-28 inches long. In the RC Pet collars, my dogs wear a 1 inch wide collar.


Since Corgis' heads are the same size or smaller than their neck and body it is super easy for them to pull out of a collar. If you plan on walking your dog I would suggest a harness. It may be best to try a harness on in the store and check for size. Your puppy will come with a standard 6-foot leash but you may also wish to buy a retractable leash. Puppies will be used to a harness like a voyager step in dog harness shown below. They will probably need an XXS to XS (Cat size harness) when you first get your puppy (contact Leslie for the current size they are wearing) but they will outgrow them fast therefore I would not spend a lot of money on the first harness that you purchase.


If you are using the training videos provided in the Buyers Resource section, you will see a "Long Line" used. There are many available for under $10.


If you plan on taking your Corgi swimming, make sure to get a doggie life vest.
I do not recommend washing your dog more than once a month unless they get into something nasty and smelly. Washing too often can dry out their skin.
When washing an aide such as the Zoom Groom can help loosen hair.
I always get asked what shampoo that we use on our puppies.  We use Isle of Dogs Tearless Puppy Shampoo.  They also offer options for adult dogs.  We like the FURminator deShedding shampoo and conditioner for adults. 
I also like the Cowboy Magic products.  To make brushing go easier, rub a dime size amount of Cowboy Magic detangler between your hands then rub through your dogs hair after bathing.   
For puppies, I recommend that Hartz Groomers Best Small Combo Brush and The Groomers Best Small Slicker Brush.  Your puppies have been brushed with both types of brushes here.


 For adult dogs, I recommend daily brushing with a pin brush, rake or slicker. The hair coat can vary depending upon genetics, type of food fed and environment and sometimes one brush will work better on one dog than another.   


After washing I recommend a greyhound comb or shedding comb with coarse and fine teeth to help remove dead hair.   


Corgis tend to go through major shedding periods when the seasons change.  They will need lots of combing during this time when they lose their undercoat.  Feeding a high-quality food and supplementing with salmon oil can help.  When using a shedding comb, greyhound comb or undercoat rake, it often helps to mist your dog with water and get the fur damp before combing.  
It is important to trim your dogs nails. We trim puppies nails with human fingernail clippers.
Adult dogs need their nails trimmed too. When dogs have long nails, pressure is exerted on the nail bed causing it to be painful when the dog walks much like wearing shoes that are too short. This can eventually cause the rotation of joints in the foot and make walking very painful for your dog.
Most of these products have been recommended by past customers.  
The Adaptil product is one that we use here with new moms who are nervous or worrisome and it seems to really calm down some dogs.  I know many people who use the collar or spray when traveling with their dogs. 
I can not emphasize enough how important it is to continue training with your puppy!!!  Your puppy will quickly forget everything that it knows if you do not continue on with socializtion and training.   The best solution that I have found is Baxter & Bella.  
You only pay $178 for a lifetime subscription when you use the discount code HARMAN.  This gives you access to lessons, videos, puppy classes, obedience classes and a live trainer when needed. 
This training will help you to continue teaching important concepts like potty training, crate training and general manners. 
Give your pup something special every month
Want to give your pup something special every month?  Bark Box is a great solution. My dogs know that it is for them and get super excited each month. 
Puppy proofing your house
What comes with a Harman Corgi
Choosing the right veterinarian